Hair Loss Reversal
Hair Loss Reversal
We often think of a healthy head of hair as a given in life, but what if you begin to lose your hair prematurely, or when you're just not ready to be without the hair you're accustomed to. For men this can be a painful thing, and in women it's the same feeling.
Some women also go through hair loss after wearing weaves, braids and glue-ins. In this case the hair line just starts to go further and further back and because of the damage to the follicles, it can be very difficult to treat.
Now there's hope in a process called Platelet Rich Plasma. We are now able to take a small sample of blood from you (less than for an executive profile blood test), spin it in a centrifuge, and remove the growth factors, and re-insert it into the parts of your scalp that have lost hair. This attracts stem cells which cause healthy hair to regrow there, and the best thing is, there are no pharmaceuticals being used, as the active ingredient comes directly from you. A significant improvement is most often noted after 3 sessions, however after the first session improvement is often quite noticeable.
We are very excited to offer this service now at Dermakare at our Kingston location in Jamaica as our results have been very very satisfying for our patients. We have found a way to make it very comfortable and the application of the plasma is virtually painless.
---
Before & After Photos
BEFORE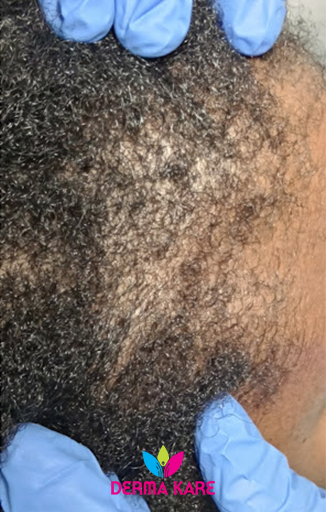 AFTER